After a month of shit-talking and a record FOUR mark-it-zeroes already being preemptively handed out to farfromsober, the 2017 RPFML cup is finally underway. And let me tell you, we are already in for an exciting week one.
Yes, the only 2017 film running this week is the opening for Mike's Underworld: Blood Wars, bafflingly in its FIFTH installment as Kate Beckinsale somehow didn't have anything better to do other than return to the franchise. That's right, for at least two weeks until XXX: Return of Xander Cage and Split debut, Underworld will be in pole position for 2017 opening weekend and total box office. But who cares about all that, we have a much more important question on our hands:
Will Mike open the year with a Mark It Zero??????????? There's a decent chance of it happening. Let's look at the numbers.
Deadline has Underworld in the mid-to-low teens; BoxOffice.com has it 13.5; and the geniuses at HSX have it at 15.36 currently. Of course, we have returning champ Rogue One: A Star Wars Story, along with Sing, and even if they both drop 50% from last week (49.5 and 42.8, respectively), they should finish comfortably ahead of Underworld.
The battle to watch will be with 2016 Oscar bait Hidden Figures, which goes wide this week. Deadline pegs this one at 15-17; BoxOffice at 21; and HSX crowdsources it at 18.95. Yup, all three sites have Hidden Figures beating out Underworld for the third and final point this week. But it's not a given: Fantasy Movie League does have Underworld priced higher (though its users are picking Hidden Figures in droves).
Would Underworld have a shot at monthly points? If it loses to Hidden Figures, unlikely; it not only has XXX and Split to compete with later in the month, but also the wide releases of Patriots' Day and Live by Night. So you know what? I'm gonna go ahead and do it. Underworld will get: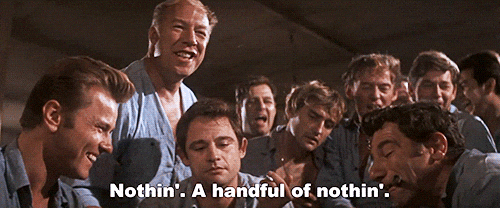 Quick 2016 Update
Zombie and buckett kept the pace last week – Star Wars grabbing first, but Sing and Passengers evened it out. Zombie has not yet passed Mike in total box office and it looks like buckett may have locked up first, as Rogue One would have to make up 200M alone and it's finally starting to slow down. Total standings now look like:
Jon – 92 (Sing +2, Passengers +1) – $2,121,585,800
Brandon – 92 (Rogue One +3) – $1,921,888,753
Mike – 90 – $1,932,214,882
Kyle – 63 – $1,553,899,237
See you next week.